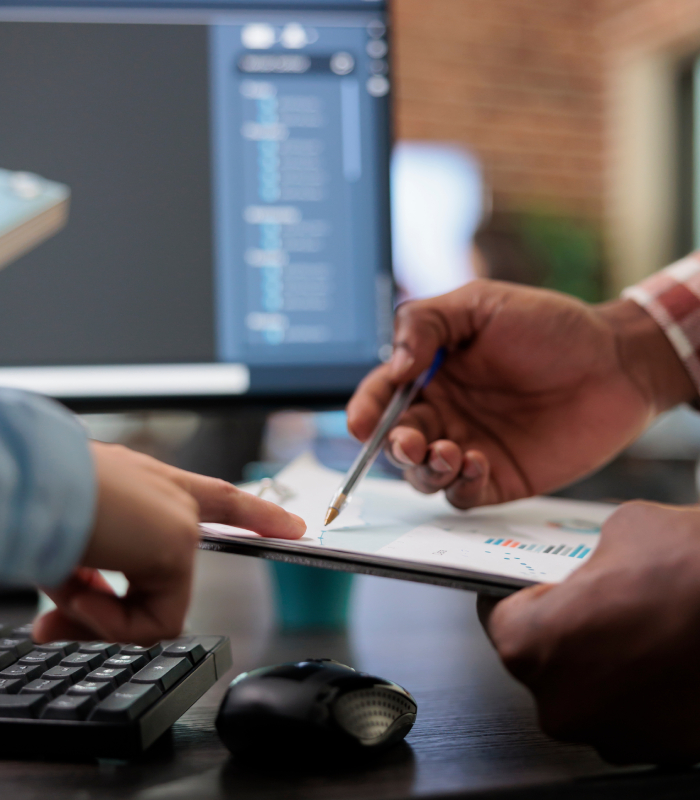 Call us on
+46 705 64 64 00
Your partner in advanced structural and fluid calculations
With a history of over two decades in the Swedish nuclear industry, we have a long record of projects carried out for the nuclear power plants
Ringhals
,
Oskarshamn
och
Forsmark
.
With high-end resources in both software and hardware, combined with experience and continuously educated personel, we are able to perform highly advanced projects in-house, in our office in Kungsbacka, Sweden.
We work with:
fracture mechanics, vibrations caused by flow fields
fluid-structure-interaction (FSI)
large and small effects of LOCA (Loss of cooling accidents)
we have long experience in structural verification projects of RPVs and internals of BWRs including fatigue analysis
With the option of including environmental factors of the coolant and materials, etc.
CAD
We use Pro/E and NX for CAD
CAD
We model everything from complex high detailed models for customers wanting to bring their drawings in to the 21th century like a complete CAD assembly model of a nuclear reactor, down to the smallest nut and bolt, all the way to smaller models of interest like a piping system with supports.
The in-house knowledge and CAD modeling expertise is the back-bone to all our further engineering work today. As all the models are compatible with our calculation software, this leads to a boost in geometric quality and endless levels of detail for the calculation models that we produce.
FEA
We solve solid and structural problems using ADINA on a 80 cores / 512 GB HP server with experience exceeding 20 years.
FEA
We analyze structural responses caused by vibrations, thermal transients and analyze thermo-mechanical fatigue, cracks, structural collapse, impact, etc. Mainly we analyze components in the nuclear industry such as. reactor vessels, cooling systems, internal parts, piping systems, turbines and buildings. Each component individually or many components in the same model, as is the case in larger structural verification projects.
CFD
We perform CFD calculations in FLUENT and iSTAR-CCM+ on two powerful HP Linux clusters with 120 (year 2015) and 256 cores (year 2009) respectively.
CFD
We have over 20 years of experience in CFD. For model preparation we use Pro/E, ANSA and ADINA/AUI. To name some examples of typical work, we analyze the structural response to transient and vibrational loadings, thermal transients and thermo-mechanical fatigue, cracks and fracture, collisions and collapse. Typical cases range in size from a few million cells to over 100 million cells in some complex models and/or R&D projects.
Thanks to the capacity of our clusters, we can offer companies the opportunity to buy CPU hours from us to run their own cases on our system.
FSI
We use ADINA-FSI and ADINA coupled with thermo-hydraulic results from e.g. RELAP5, FLUENT and STAR-CCM+ to solve coupled FSI challenges on a powerful HP server with 80 cores and 512 GB memory.
FSI
For LOCA and acoustic analysis we use slightly different strategies. For the water modeling, e.g. linear potential-based elements or subsonic potential-based elements. For the connection between fluid and structure, e.g. 2-way ADINA-FSI or 1+2-way ADINA-FSI, depending on the phenomena and loads involved.
The method of linking RELAP5 with Adina has proven to be a very powerful method in various evaluation tests against real cases and experiments.
Read about our latest mention in ADINA News!
New from 2013 is that we have also brought in ANSYS Mechanical which we connect with ANSYS Fluent for full 2-way FSI coupling. The vision is to be able to calculate strongly coupled systems where the non-linear flow effects are dominant and difficult to correct for.
No Results Found
The page you requested could not be found. Try refining your search, or use the navigation above to locate the post.