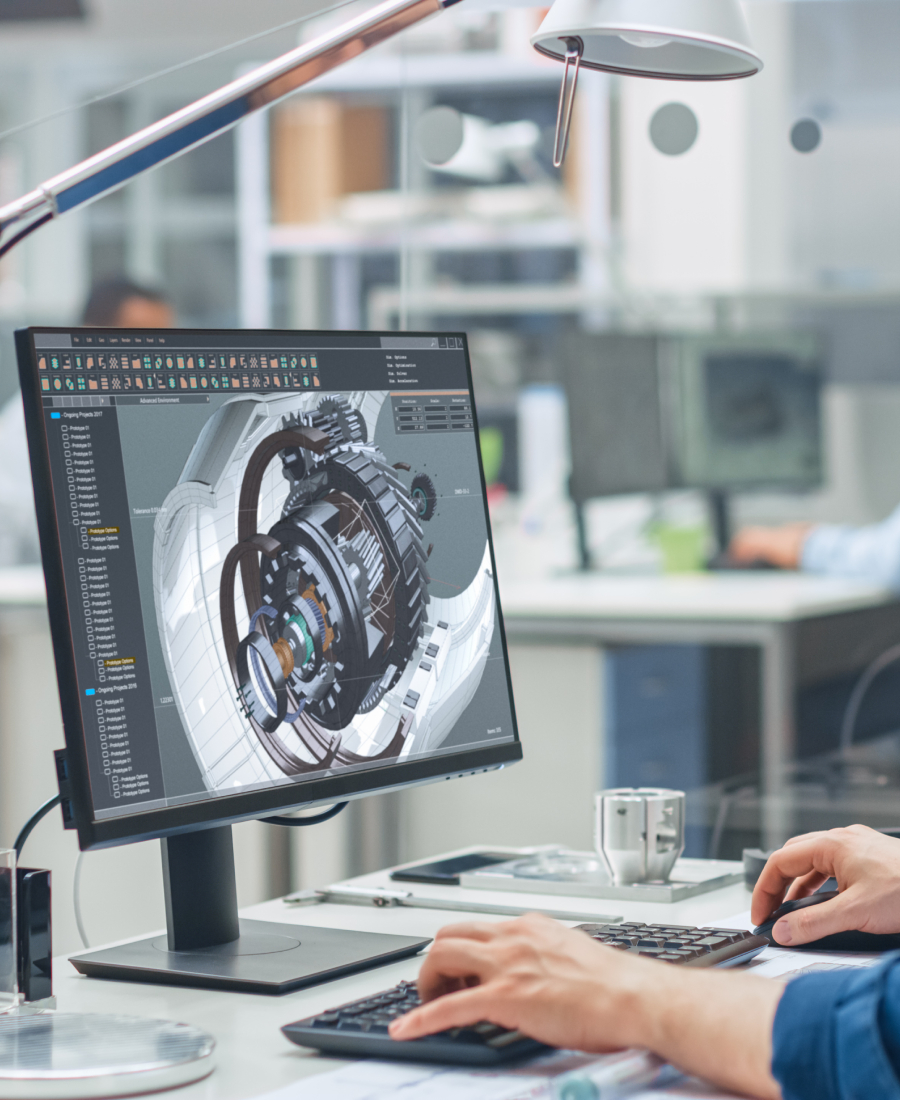 We specialize in structure and fluid dynamics and how these phenomena interact. We have the tools and knowledge to meet our customers' needs when faced with challenges related to, or directly caused by, mechanical, flow-related, thermal or strongly coupled FSI phenomena.
We are a dedicated group with many years of experience in our fields, which together with a variety of specialized software and state-of-the-art hardware, has the resources to tackle complex and strongly coupled phenomena in structural, fluid and thermodynamics. See some of the projects we have been involved in over the last few years.
From the beginning, a desire to be at the forefront of heavy computing and computer resources has been a big part of our company culture. The focus on large non-linear FEA and structural dynamics calculations and very heavy CFD calculations drives a continuous development effort to improve our methods, programs and hardware investments.
Examples of some areas where our expertise is available:
Fracture mechanics
Fatigue analysis – (also with option to use the influence of environmental factors from cooling media and material composition on fatigue in accordance with ASME).
Static and dynamic structural analysis
Static and dynamic fluid analysis
Thermal mixing, conduction, voltage analysis, etc.
Two-phase thermal hydraulics in Relap5
Fluid Structure Interaction – FSI
Managing and analyzing large amounts of data
We also perform jobs such as assembling CAD models for customers who wish to get a complete 3D view of their 2D drawings. To date, we have delivered highly detailed CAD models of complete reactor tanks and/or internal parts for Ringhals and Oskarshamn, among others.
CAD
We use Pro/E and NX for CAD
CAD
We model everything from complex high detailed models for customers wanting to bring their drawings in to the 21th century like a complete CAD assembly model of a nuclear reactor, down to the smallest nut and bolt, all the way to smaller models of interest like a piping system with supports.
The in-house knowledge and CAD modeling expertise is the back-bone to all our further engineering work today. As all the models are compatible with our calculation software, this leads to a boost in geometric quality and endless levels of detail for the calculation models that we produce.
FEA
We solve solid and structural problems using ADINA on a 80 cores / 512 GB HP server with experience exceeding 20 years.
FEA
We analyze structural responses caused by vibrations, thermal transients and analyze thermo-mechanical fatigue, cracks, structural collapse, impact, etc. Mainly we analyze components in the nuclear industry such as. reactor vessels, cooling systems, internal parts, piping systems, turbines and buildings. Each component individually or many components in the same model, as is the case in larger structural verification projects.
CFD
We perform CFD calculations in FLUENT and iSTAR-CCM+ on two powerful HP Linux clusters with 120 (year 2015) and 256 cores (year 2009) respectively.
CFD
We have over 20 years of experience in CFD. For model preparation we use Pro/E, ANSA and ADINA/AUI. To name some examples of typical work, we analyze the structural response to transient and vibrational loadings, thermal transients and thermo-mechanical fatigue, cracks and fracture, collisions and collapse. Typical cases range in size from a few million cells to over 100 million cells in some complex models and/or R&D projects.
Thanks to the capacity of our clusters, we can offer companies the opportunity to buy CPU hours from us to run their own cases on our system.
FSI
We use ADINA-FSI and ADINA coupled with thermo-hydraulic results from e.g. RELAP5, FLUENT and STAR-CCM+ to solve coupled FSI challenges on a powerful HP server with 80 cores and 512 GB memory.
FSI
For LOCA and acoustic analysis we use slightly different strategies. For the water modeling, e.g. linear potential-based elements or subsonic potential-based elements. For the connection between fluid and structure, e.g. 2-way ADINA-FSI or 1+2-way ADINA-FSI, depending on the phenomena and loads involved.
The method of linking RELAP5 with Adina has proven to be a very powerful method in various evaluation tests against real cases and experiments.
Read about our latest mention in ADINA News!
New from 2013 is that we have also brought in ANSYS Mechanical which we connect with ANSYS Fluent for full 2-way FSI coupling. The vision is to be able to calculate strongly coupled systems where the non-linear flow effects are dominant and difficult to correct for.

thermal-hydraulics
We use RELAP5 to perform two-phase analysis of dynamic systems in pipes and reactor vessels.
Results from RELAP5 are often used as boundary conditions for FSI analyses such as structural analyses in case of LOCA or as unsteady forces on pipe systems for structural evaluation. The method of linking RELAP5 with Adina has proven to be a very powerful method in various evaluation tests against real cases and experiments.

Want to rent CPU time for your CFD project?
To be at the forefront of your calculation methods, you need access to raw computing power!
If you or your company is short on computer resources, but already have your case set up in Fluent
or in any of the other CFD programs we support, please feel free to contact us.
We may be able to run the case for you on our clusters.
Ideal if you have an R&D case for example, but at the same time you don't want that case to lock up
up all your processors for an extended period of time, thus disrupting other projects. You will
probably save time and money by letting us do it for you!
We also offer the possibility to control your calculations via a remote solution.